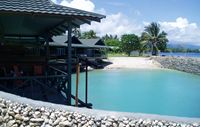 Swimming


Kalibobo Village offers a wide choice for swimmers starting with a 30 meter pool, a fresh water pool at Raffles and the pool at the Townhouses. There is even a special wading pool for infants plus two saltwater lagoons within the Resort Property.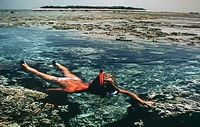 Snorkelling


In the unspoiled waters surrounding Madang, living coral reefs of vibrant blue, green, and yellow ring town and are home to colourful myriad of fish, from angel fish to butterfly fish. Through the extraordinarily clear blue water, you will witness a spectacular display of colourful ocean life, typical of these waters. The Dive shop can arrange for snorkelling excursions within the Madang Harbour.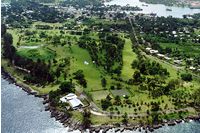 Golf


Guests have full access to the picturesque Madang Country Club's 9-hole golf course as Members. There are also squash court and bowling green, all within easy walking distance of the hotel along Coastwatchers Drive.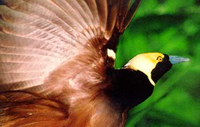 Nature Walks & Trekking


MTS conducts guided nature walks in the early morning or afternoon. You drive to nearby rainforest by car and then take a short walk to visit some ancient caves and their inhabitant's… bats, many species of birds – with a little luck a Bird of Paradise. Extended treks can be arranged to visit the Shaggy Ridge, Teptep in the Finnisterre Mountains, Simbai, located on the Bismarck Mountain Range and Mt Wilhelm, at 4905 metres, PNG's highest peak Mt Wilhelm.
Trekking can also be arranged over Shaggy Ridge with advance notice and extended trekking is available between Kundiawa and Madang via Bundi.